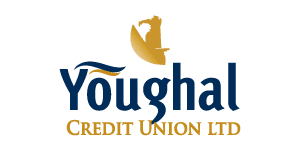 Youghal Credit Union
Credit Union Limited, Grattan St, Youghal-Lands, Youghal, Co. Cork, P36 YT50

Youghal Credit Union Limited was founded in 1967 and we currently have over 16,000 members. We are proud to be serving Youghal community and it's hinterlands of Killeagh, Ladysbridge, Clashmore, Kinsalebeg and Ardmore for over 50 years. We are a community-based credit union and exist for the benefit of our members, not to profit from them.
Our total savings amount to over €100 million and loans outstanding amount to just over €30 million. We are member focused and are constantly striving to offer the best membership services through excellent customer service, competitive loan rates and dividends & interest rebates.
We aim to meet the needs of our member-owners, enhancing their lives and financial well-being while maintaining the strength of the credit union. We thrive in an environment of trust, respect, integrity and honesty.
Contact Us
Address
Credit Union Limited, Grattan St, Youghal-Lands, Youghal, Co. Cork, P36 YT50