Lobbying
We represent the views of our members at local, county, regional and national level. Lobbying is one of the key services offered by Youghal chamber to its members.
Supporting SMES
Youghal Chamber develops and packages services that can be delivered to SMEs these include information and training programmes to support growth and competitiveness.
Networking Opportunities
Youghal Chamber offers support and assistance to help local businesses grow and provide the best service possible to their members. It operates the chamber quality
This elegant Georgian House at the entrance to Youghal Harbour in East Cork was built in 1752 on the grounds of the old Fransiscan Abbey which was sacked by the Cromwellian Army. Avonmore House (house on the large river) was one of the first houses built outside the town wall of Youghal, and belonged to the Earls of Cork. The title of the house passed to the Duke of Devonshire in 1826 and has been in private hands since 1846. Avonmore House is located in a central position between the five mile golden beach and the town centre with it's unique history. The house still retains many of its original features and offers a high level of comfort in its graceful rooms. Avonmore House has been completely renovated with all modern conveniences. Avonmore House can provide the kind of quality and service that only comes from years of experience. Avonmore House, Bed and Breakfast, is recommended by Frommers, Globe Trotter, Lonely Planet Rough Guide and other leading travel guides.
Avonmore House, South Abbey, Youghal
Built in 1838, Roseville is a magnificent Georgian residence enclosed within a charming walled garden.  It is centrally located in the heritage town of Youghal and is at the gateway to Ireland's Ancient East. From here you are perfectly placed to explore East Cork and West Waterford. Roseville Guest Accommodation, Youghal Accommodation at Roseville consists of two magnificently reappointed rooms: the Garden Room and Garden Room Suite. Though part of the house, each room has its own private entrance from the garden courtyard. Both rooms have been designed with comfort in mind and will appeal to the extended-stay traveller. Warm Welcome At Roseville Guest Accommodation we pride ourselves on our warm welcome and attention to detail. Our unique Room Service Breakfast is no exception. Tuck into fresh homemade breads and preserves, together with juices, smoothies and overnight oats for the health conscious, along with a hot breakfast delivered fresh to your room each morning of your stay. Our produce is locally sourced and everything is freshly made-to-order.
Roseville, New Catherine Street, Youghal
The Quays Bar and restaurant is situated on Youghal's quayside offering panoramic views across Youghal Bay.  At the Quays you will experience some of the best food that the sunny south east has to offer – from morning coffees and fresh scones, carvery lunch, seafood chowder, smoked salmon and a selection of fresh cut sandwiches.   We offer a wide selection of seafood—perhaps you may prefer one of our prime succulent steaks- sirloin, fillet or rib-eye.   To quench your thirst we stock a wide selection of wines, local craf beers and of course our amazing Irish Coffee. Youghal Tourist Office is just next door to The Quays, making us an ideal place to plan your day's activities in comfort – be it a taking on Youghal's Heritage Walking Trail, a Boat Trip up the Blackwater.  Whatever your activity you will find a warm welcome, good food, good company and service at The Quays Bar. FREE parking available for coaches and private vehicles.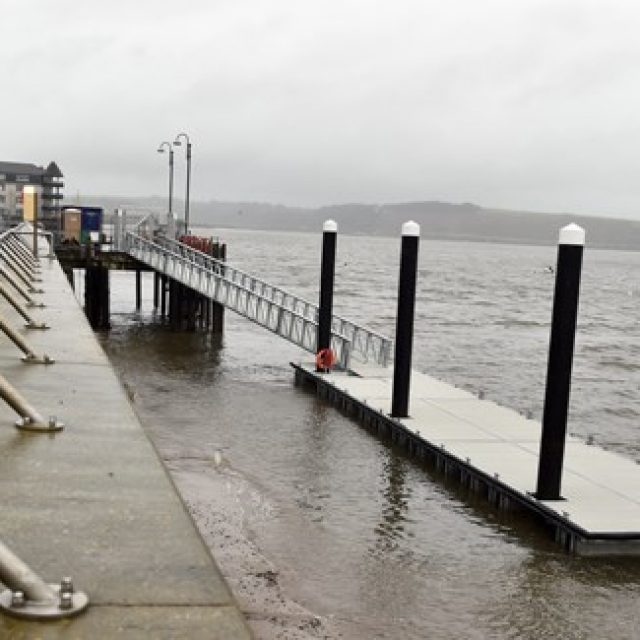 Green Light for Youghal Pontoon As Funding Approved
Cork East Fine Gael TD and Minister of State at the Department of Justice, David Stanton has welcomed the funding announcement of €112,500 for the development of a pontoon and gangway in Youghal. "The announcement is great news for Youghal and will allow for the supply and installation of a pontoon and gangway in Youghal Harbour. Cork County Council has done a huge amount of work to get this project underway and has already secured the necessary planning permission and foreshore licence to allow the development to proceed", said Minister Stanton. "Last year eight visitor buoys were put in place in Youghal harbour and these have been very successful in attracting marine leisure tourism to the town. I am confident that the pontoon will build on the success of these buoys and greatly enhance Youghal's marine tourism offering and lead to an increase in visitors to this historic town. "This funding is another substantial investment in Youghal's tourism product. In addition to the development of Youghal's heritage trail which includes the Raleigh Quarter, the medieval town walls, St Mary's Collegiate Church and gardens next door, Youghal Clock Gate was opened to the public at the end of last year and […]
Read More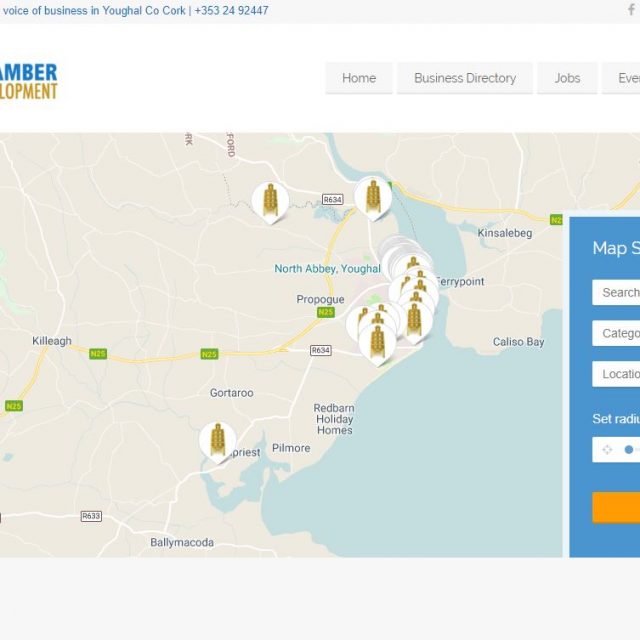 New Website
Youghal Chamber has a brand new Website. Our new website has more features, including Job Listings, member management, and business information. If you're looking for information about Youghal Businesses this is the place to find it. The new website features: A user friendly map which features each business type split by a Category Icon, and their location Business information for each Chamber member and the ability to contact, if the information is provided. Membership Management feature in which the Administrator can enable / disable Members accounts, which would deactivate / de-list their listing on the website. A Jobs section allowing members / businesses in Youghal to advertise Jobs directly on the website through the chamber. An updated Events section allowing website visitors the ability to see upcoming events, and comment on them if desired Social Media sharing option on every page. and Social Media links to existing Youghal Chamber social websites Event Submission forms If you have any feedback, please feel free to Contact Us
Read More
Subscribe to Youghal Chamber News
Subscribe to our Mailing List to receive the latest Youghal Chamber news