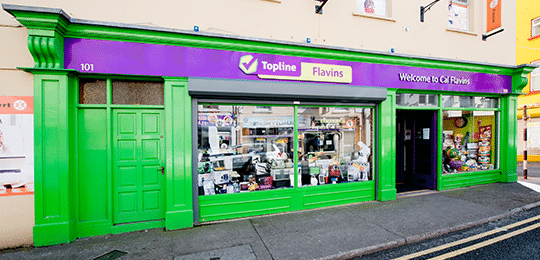 Topline Flavins
Your one-stop shop for a variety of household items, hardware, and electrical goods….
Topline Flavins, 100/101 North Main Street, Youghal

Topline Flavins employs 11 people and stocks a wide variety of products in departments including housewares, hardware, plumbing, stoves, paint, fishing, electrical, TVs, fridges, and washing machines. As you can see on the left, we have specialists in each department who complement each other to ensure that we can help you, whatever your unique requirement.
What we do
Our objective is to sell you what you need and we see customer service as paramount. To improve our service, we are opening a new car park directly behind the shop with access from two streets, making our customers' shopping experience easier and more comfortable. We are also extending our paint department to offer more brands and thousands more colours for you to choose from. Topline Flavins offers a delivery service as a further convenience to our customers.
Our history
Founded as Cal Flavins in 1970, taking over from Nicholas Flavin & Sons Ltd.; the business was primarily a hardware ironmongers retailer.Cal Flavins expanded to include TV and Electrical departments in the 1970's. Now in its third generation Cal Flavins extended in 2003 to double the size of the shop and to put in a dedicated TV & Kitchen Appliance department on the first floor.
The local community
We show our appreciation to the community of Youghal and the surrounding areas for their ongoing support by regularly sponsoring and supporting local fundraising efforts and initiatives.
The Topline group
Joining the Topline group in the 1990's and Expert Electrical a few years later propelled Topline Flavins forward, bringing enormous buying power and access to many more brands. This allows us to compete with the national and international chain stores, while remaining independently owned, local, and still able to give the same personalised service.
Contact Us
Address
Topline Flavins, 100/101 North Main Street, Youghal