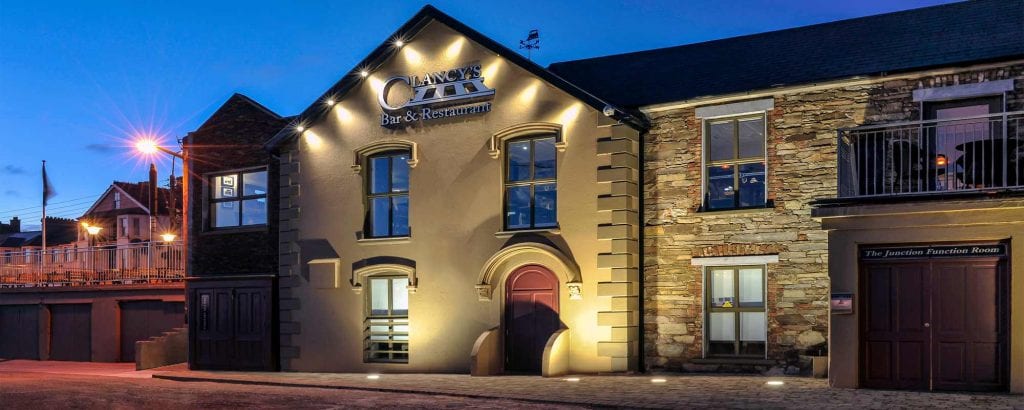 Clancys Bar
Beach front bar in Youghal
Clancys Bar, Front Strand, Youghal

The beauty of Youghal speaks for itself-where Cork meets Waterford, where the Blackwater meets the Celtic Sea, and where strong traditions meet the present day. There's no better way to take in that beauty than with a walk along the Strand. And while you're down here, call into Clancy's for a bit of refreshment-be it at the bar, in the dining room or in our beer garden.
Clancy's Bar & Restaurant is pleased to serve Youghal once again, after what was seen by many as a disheartening hiatus. While the Great Southern and Western Railway station is no more, the Railway Bar, as Clancy's was long known, is back and better than ever—blending time-honoured Irish hospitality with contemporary cuisine… while compromising on neither.
With an impressive selection of beers, wines, whiskeys and cocktails, Clancy's is among the premier locations for a good night out in East Cork—whether it's to meet up with friends, celebrate a special occasion, enjoy the live music or catch any and all international sporting events on the bar's flat-screen TVs.
On the heels of several hospitality ventures in the New York City area, proprietor and Youghal native Padraig Hennessy is eager to return to his hometown as it enters into a new era. A labour of love, Clancy's presented Hennessy with a unique opportunity to restore this grand old establishment that he knew from his past, while bringing his family back to the only place he has ever truly called home.
From Youghal to Bantry, from Charleville to Kinsale, there's little doubt that Cork's Rebel Renaissance is in full swing. Offering world-class views from a remarkable location, Clancy's Bar & Restaurant is certainly proud to be part of it.
Taking that elusive concept of "something for everyone" to a whole new level, Clancy's Bar & Restaurant hopes you enjoy a fantastic day or night by the seaside, while appreciating all the comforts of land.
Opening Hours
Hours may change during winter months
Contact Us
Address
Clancys Bar, Front Strand, Youghal